A closer look at Tom Crean's 10-year deal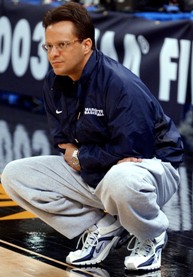 Now that the ink has dried on Tom Crean's 10-year deal, we've taken a closer look at the document and have a Cliff's Notes version for those of you that didn't feel inclined to dig through all 22 pages:
— The compliance language is plentiful. Crean is responsible for the coaching staff, players and all other individuals under his direct or indirect supervision. In the event that Crean becomes aware of a compliance issue, he's required to report it in writing to the Athletic Director.
— Section 2.02 deals with rules violations and the consequences if a violation occurs. Essentially, the language reads that if Crean, an assistant coach, a player or a staff member is involved in a NCAA rules violation, IU reserves the right to suspend him without pay or terminate his employment.
— IU agreed to pay up to $650,000 of his buyout to Marquette.
— Crean's base salary is $600,000 annually. He'll be paid monthly.
— Crean's wife and children will be able to travel on the university dime to all away games, including tournaments.
— Crean will receive two "late model" automobiles for his use.
— Crean will receive eight season tickets to home men's basketball games and at his request, he can receive up to 60 lower level tickets to all home games. For road games, Crean will receive eight tickets. Additionally, he'll get eight tickets to all postseason games, eight tickets to all home football games and eight tickets to any other home IU sporting event.
— For his marketing and promotional efforts, Crean will be compensated as follows:
Year 1: $1,400,000
Year 2: $1,480,000
Year 3: $1,560,000
Year 4: $1,640,000
Year 5: $1,720,000
Year 6: $1,800,000
Year 7: $1,880,000
Year 8: $1,960,000
Year 9: $2,040,000
Year 10: $2,120,000
— Crean is allowed to pursue outside endorsement opportunities approved by the Athletic Director, but he must report a detailed earnings report on or before June 30 each year.
— Crean will be compensated as followed for on the court success:
Big Ten regular season title: $125,000
Big Ten Tournament title: $50,000
NCAA Tournament appearance: $25,000
NCAA Tournament round of 32: $25,000
NCAA Tournament Sweet 16: $35,000 (each assistant will receive one month's salary as a bonus)
NCAA Tournament Elite Eight: $50,000
NCAA Tournament Final Four: $125,000
NCAA Tournament Championship: $250,000
— If Crean decides to leave Indiana, he'll owe the school $3,000,000 if he departs in his first three seasons, $2,000,000 in years four and five and $1,000,000 thereafter until the contract expires.
— The termination legal speak begins on page 11 of the document. The gist is that IU has the deal set up in a way that any notice of a NCAA rules violation gives cause to fire Crean. We can also refer to this as the "Kelvin Sampson provisions" portion of the contract. Hopefully the lawyer who forgot to include this type of strict language in Sampson's deal has been fired.
— In the event that Michael McRobbie is removed or resigns from his seat as President of IU, Crean has the right to renegotiate the termination portion of the deal.
— And finally, in the unlikely event that IU decides to get rid of Crean without just cause, the school will owe him the lesser of $3 million or his base salary for the years remaining on the deal.
Filed to: Tom Crean