ITH Super Happy Fun Time Top 10 List: Calbert Cheaney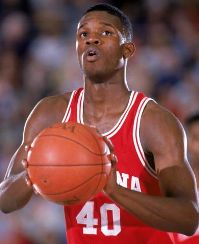 The ballots have been counted and it's time for Inside the Hall's countdown of the greatest Indiana players of all-time. Today: No. 1: Calbert Cheaney.
Years at Indiana: 1989-1993
The numbers: 2,613 points (19.8 average); 690 rebounds (5.2 average); 1,018 field goals; 148 three-point goals; 429 free throws made
Career high: 36 points (November 27, 1992 vs. Seton Hall)
Notable achievements: All-American (1991, 1992, 1993); National player of the year (1993); First team All-Big Ten (1991, 1992, 1993); Big Ten MVP (1993); Indiana team MVP (1990, 1991, 1992, 1993); Big Ten champion (1991, 1993); Final Four (1992)
The case for Cheaney: While Cheaney is missing the biggest credential that defines greatness, a national championship, he is the leading scorer in Indiana and Big Ten history. He is one of only three Indiana players to be named team MVP in four straight seasons (Steve Alford, A.J. Guyton). Cheaney won all 12 national player of the year awards in 1993, won two Big Ten championships, was a three-time All-American and was a part of a Final Four team in 1992.
Filed to: Calbert Cheaney, ITH Top 10 list