ITH Super Happy Fun Time Top 10 List: Scott May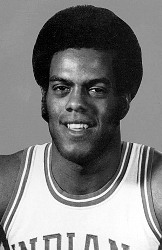 The ballots have been counted and it's time for Inside the Hall's countdown of the greatest Indiana players of all-time. Today: No. 2: Scott May.
Years at Indiana: 1973-1976
The numbers: 1,593 points (17.7 average); 594 rebounds (6.6 average)
Career highs: 41 points (February 26, 1976 at Wisconsin); 17 rebounds (February 8, 1975 at Iowa); 9 steals (February 7, 1976 vs. Michigan)
Notable achievements: All-American (1975, 1976); National player of the year (1976); First team All-Big Ten (1975, 1976); Big Ten MVP (1975, 1976); Indiana team MVP (1975, 1976); Big Ten champion (1974, 1975, 1976); National champion (1976)
The case for May: One of the hardest working players to ever wear the candy stripes, May was the first Indiana player to win the player of the year award in 1976 when he led the Hoosiers to a 32-0 record and a national championship. He won Big Ten titles in each of his three seasons in Bloomington and was a two-time Big Ten MVP and All-American. May was one of three Hoosiers taken in the first round of the 1976 NBA Draft as the Sandusky, Ohio native went No. 2 overall to the Chicago Bulls.
Filed to: ITH Top 10 list, Scott May