ITH Super Happy Fun Time Top 10 List: Walt Bellamy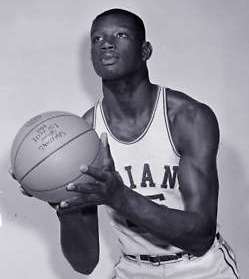 The ballots have been counted and it's time for Inside the Hall's countdown of the greatest Indiana players of all-time. Today: No. 4: Walt Bellamy.
Years at Indiana: 1958-1961
The numbers: 1,441 points (20.6 average); 1,088 rebounds (15.5 average)
Career highs: 42 points (February 22, 1960 at Illinois); 33 rebounds (March 11, 1961 vs. Michigan)
Notable achievements: 59 career double-doubles (school record); All-American (1960, 1961); First team All-Big Ten (1960, 1961); Indiana team MVP (1959, 1960, 1961); Indiana Hall of Fame (1982)
The case for Bellamy: The No. 1 pick in the 1961 NBA Draft, Bellamy is second in IU history in rebounds and owns the IU and Big Ten record for rebounds in a game with 33. Bellamy was the team MVP in all three of his seasons in Bloomington and was inducted to the Naismith Hall of Fame in 1993.
(Photo credit: Herald Times)
Filed to: ITH Top 10 list, Walt Bellamy