Indiana welcomes Roshown McLeod to coaching staff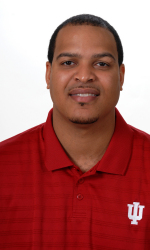 Here is the official release from Indiana media relations:
August 14, 2008
BLOOMINGTON, Ind. – Indiana University men's basketball coach Tom Crean has announced that former NBA player Roshown McLeod, who also played collegiately at Duke and St. John's, has been named as an assistant coach for the Hoosier program. In addition to his regular duties as an assistant coach, he will work specifically with IU's inside players.

"Not only was Roshown an outstanding player but he is a very good coach who has been a student of the game for a long time," said Crean. "His ability to teach the game, adjust quickly on his feet to different circumstances, and to make players better were very apparent in the process of getting to know him. He will be a tremendous mentor to our team, but especially to our inside players."

McLeod has been coaching on the collegiate, high school, and AAU level since an injury ended his NBA career in 2002. He was an assistant coach at Fairfield University in 2002-03 and currently was the director of all basketball operations and head varsity coach at Woodward Academy in Atlanta, a private K-12 school in Atlanta. He also served as the head coach at Therrell High School and started the Next Level Players Development program where he became involved as a coach on the AAU level for the Atlanta Celtics and Georgia Stars.
"This is a great opportunity for myself and my family," said McLeod. "Indiana is the cream of the crop when you talk about great college basketball tradition. I was fortunate to play at a very high level in college and in the NBA and to get a chance to coach at that same level for a program like Indiana is a dream come true."

A native of Jersey City, New Jersey, McLeod's career path was influenced by his legendary high school coach, Bobby Hurley, Sr., of St. Anthony's High School and three other Hall of Fame coaches that he played for, Mike Krzyzewski (Duke), Lenny Wilkens (Atlanta) and Larry Brown (Philadelphia).

"I watched him throughout his career as a high school, college and NBA player, and I've always been impressed with him," said Crean. "As I've gotten to know him, I've realized that we have mutual acquaintances and friends, and the people that he has played for, I hold in high regard and have great respect for."

McLeod played four seasons in the NBA with Atlanta (1998-01), Philadelphia (01) and Boston (01-02) after being drafted 20th overall in 1998. He averaged 7.2 points and 2.7 rebounds in 113 career games.

"In all likelihood, if Roshown would've been able to stay healthy, he would still be a player in the NBA," added Crean. "When that wasn't an option anymore, he followed his heart and got involved in many different aspects of coaching basketball, whether at the collegiate level, the high school level or inside of the summers. His personality is very engaging and outgoing and he has built up many outstanding relationships already in the basketball world, with many more to come."

He played his first two seasons of college ball at St. John's before transferring to Duke, where he was the first transfer player signed by Krzyzewski. After posting 7.2 points and 5.8 rebounds in 57 games at St. John's, he averaged 13.7 points and 5.5 rebounds in two years at Duke, leading the Blue Devils in scoring in 1997-98. He was named first team All-ACC and honorable mention All-America as a senior, when he averaged 15.3 points and 5.6 rebounds per game and shot a career-high .494 from the field.

"Most importantly, I think our fans will respect how hard he works and the energy that he has," noted Crean. "We are really excited that Roshown and Tiffani are with us."

He earned a degree in sociology from Duke. He and his wife, Tiffani, have a son, Anthony (13), and a daughter, Anisa (8).
(Photo credit: Indiana University)
Filed to: Roshown McLeod