ITH Super Happy Fun Time Top 10 List: Steve Alford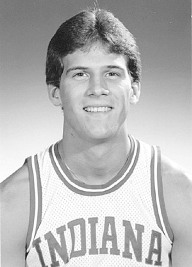 The ballots have been counted and it's time for Inside the Hall's countdown of the greatest Indiana players of all-time. Today: No. 5: Steve Alford.
Years at Indiana: 1983-1987
The numbers: 2,438 points (19.5 average); 385 assists (3.1 average); 178 steals (1.4 average); 53.3 field goal percentage; 89.8 free throw percentage

Career highs: 42 points (February 4, 1987 vs. Michigan State); 8 steals (March 15, 1985 vs. Butler)
Notable achievements: All-American (1986, 1987); First team All-Big Ten (1984, 1986, 1987); Indiana team MVP (1984, 1985, 1986, 1987); Indiana Hall of Fame (1997); Big Ten co-champion (1987); National champion (1987)
The case for Alford: One of the best shooters ever in the state of Indiana, Alford is the second leading scorer in school history. And if the three-point line, adopted in 1986, would have been present during his entire career, his career totals would have grown considerably. Alford's 23 points, including seven three-pointers, led the Hoosiers to a 74-73 win over Syracuse in the 1987 championship game.
Filed to: ITH Top 10 list, Steve Alford