ITH Super Happy Fun Time Top 10 List: Don Schlundt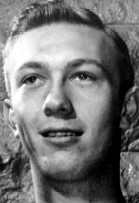 The ballots have been counted and it's time for Inside the Hall's countdown of the greatest Indiana players of all-time. Today: No. 9: Don Schlundt.
Years at Indiana: 1951-1955
The numbers: 2,192 points (23.3 career average), 860 rebounds (9.1 career average); 826 free throws made (school record)

Career highs: 47 points (Two occasions vs. Ohio State, January 18, 1954 and March 5, 1955); 25 free throws made (vs. Ohio State, March 5, 1955)
Notable achievements: Led IU in scoring four straight seasons; First team All-Big Ten (1953, 1954, 1955); All-American (1953, 1954, 1955); Big Ten MVP (1953); Indiana Hall of Fame (1982 inductee); Indiana team MVP (1953, 1954, 1955); Big Ten champion (1953 and 1954); National champion (1953)

The case for Schlundt: The late Schlundt, who passed away in 1985 after a battle with cancer, held the career scoring record until Steve Alford surpassed him during the 1986-1987 season. The South Bend native scored 30 points in Indiana's 69-68 win over Kansas in the 1953 NCAA Championship game.
Filed to: Don Schlundt, ITH Top 10 list