ITH Super Happy Fun Time Top 10 List: Alan Henderson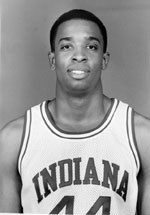 The ballots have been counted and it's time for Inside the Hall's countdown of the greatest Indiana players of all-time. Today: No. 10: Alan Henderson.
Years at Indiana: 1991-1995
The numbers:  1979 points (16.1 career average), 1091 rebounds (8.8 career average), 213 blocks, 148 steals, 54% from the field
Career highs: 41 points (March 9, 1994 at Michigan State); 28 rebounds (January 4, 1992 vs. Cincinnati); 6 blocks (March 1, 1992)
Notable achievements: 49 career double-doubles; sixth all-time leading scorer; leading rebounder in school history; All-American (1995); First team All-Big Ten (1995); Indiana Hall of Fame (2006 inductee); Indiana team MVP (1994 and 1995); 1992 Final Four
The case for Henderson: The numbers don't lie: Henderson left Indiana as the only player in school history to rank in the top five in scoring, rebounding, blocked shots and steals. He played a key role in IU's Final Four run in 1992 and helped lead the Hoosiers to a Big Ten title and the Elite Eight as a sophomore.
Filed to: Alan Henderson, ITH Top 10 list