Rickerby named assistant athletic director for compliance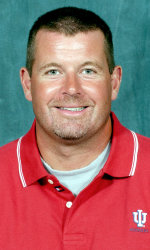 After Chad Hawley backed out of the position, Indiana named Ian Rickerby assistant athletic director for compliance on Monday, according to The Indianapolis Star:
Rickerby replaces Jennifer Brinegar, who in June moved from compliance to recruiting and enrollment services. His annual salary will be $69,500.

Rickerby's role during then-basketball coach Kelvin Sampson's alleged violations of NCAA rules and their subsequent discovery is unclear. Rickerby was promoted from assistant soccer coach to director of compliance March 1, 2007. During that time, he was "responsible for acting as the primary contact for all constituents for rules interpretations, overseeing the monitoring of rules compliance and assisting with rules education," IU said in Monday's news release.
I would expect there to be a little bit of backlash to this decision, simply because Rickerby was on staff at IU when all of the Sampson stuff went down. Personally, as a subscriber to the "Sampson as a rogue actor" theory, I'm giving IU props for promoting from within. In our limited interactions with Rickerby, he's been nothing short of a class act. Best of luck, Ian.
Filed to: Ian Rickerby