Will Indiana offer Stephan Van Treese?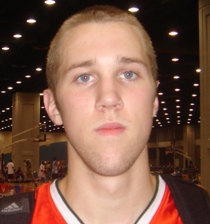 One of the questions the Indiana coaching staff will have to answer come the end of the evaluation period is whether or not a scholarship offer will be extended to Stephan Van Treese.
Van Treese, a 6-9 forward from Lawrence North who is a member of the 2009 class, has not been offered a scholarship by the new Indiana staff, but Indiana remains in his top five schools.
His list could become shorter in the near future as Louisville's interest appears to have tapered off. There is also a possibility of another school getting involved and the rumor is that California is interested. Mike Montgomery was visible this past weekend at the Kentucky Hoop Fest watching Indiana Elite and presumably, Van Treese.
I got a good look at Van Treese on Friday and Saturday and came away impressed. He ran the floor, played hard, pounded the glass and converted most of his opportunities down low. The problem for the IU staff with limited scholarships available is whether or not he fits the mold of the missing piece for the 2009 class. He is somewhat similar to Bobby Capobianco and perhaps the coaching staff is looking at Roger Franklin as a more viable option because of his versatility.
With that said, the Indiana staff will get another look at Van Treese next week in Las Vegas and a decision on a scholarship offer should come shortly thereafter. My question for you, ITH'ers: Will Indiana look to lock up one of the top players from Indiana in the 2009 class or will they shift their focus elsewhere? Thoughts in the comments, por favor.
Filed to: Stephan Van Treese