Andy Katz says Eric Gordon is going to the Knicks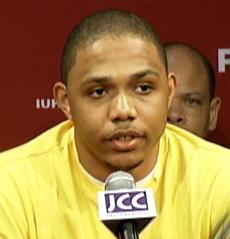 Early this afternoon on the Herd with Colin Cowherd, Andy Katz broke down the top 12 picks of the NBA Draft and he had our boy Eric Gordon going to the Knicks with the sixth pick.
Most of the mock drafts are in agreement (except this one) that Gordon won't get past Milwaukee with the eighth pick, so it's looking like either the Knicks, Clippers or Bucks for EJ.
Of those three situations, I probably like New York the best. Mike D'Antoni's style seems to fit Gordon well and the chance to play in a market with endless endorsement opportunities is also a huge plus.
Milwaukee, on the other hand, could be a disaster if Gordon is forced to answer Kelvin Sampson questions his entire rookie season.
By the way, Cowherd, friend of all bloggers, wasn't shy with his praise for Gordon and his potential to succeed at the next level: "Eric Gordon will be a 10-time All-Star. He'll be a star in the NBA…fast."
Filed to: Andy Katz, Colin Cowherd, Eric Gordon, NBA Draft