Rob Senderoff talks about the hearings, his future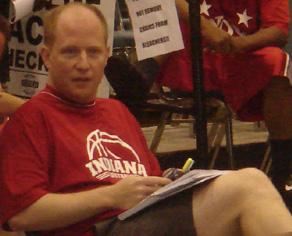 Instead of sneaking out of the back door without comment like our old friend Kelvin, former IU assistant Rob Senderoff actually showed his face out in Seattle during the NCAA hearings and yesterday, he spoke with David Carducci of The Record-Courier:
"I was glad to have the opportunity, but it was still an incredibly difficult process. First of all, having my integrity in question, and then having to read about it every day in the newspaper and online, and having what I thought was misinformation reported about me, it was all very difficult. With that being said, I put myself in the situation that allowed all of this to happen, and I can't blame others for that. The way this has all been so public has just made it harder. But that's part of working at Indiana."

"My reputation up until (Indiana) had been spotless. And my reputation from this point on will be spotless. But I have to work doubly hard to cleanse my reputation now. I built a reputation through 12 years of doing things the right way. That has been destroyed. It is gone. And now I'm starting at ground zero again, and I have to prove myself even beyond what I've done before because now there is a perception that I do things wrong. And I'm not going to do anything wrong from this point forward. Going through this process has taught me how important it is to dot every "i' and cross every "t.' I am going to have to live with all of this forever. Even if the ruling (by the NCAA) is in my favor, I still did some things wrong, and I'm going to have to live with that."
It's nice to see Senderoff, unlike Sampson, is taking some accountability for what went down. Listen, the guy made some bad decisions, but the fact that he's standing up and taking blame should be good for something, right? I've met Rob a couple of times and he's one of the nicer guys in coaching. Here's to hoping he gets things going in the right direction despite the carnage he left behind in Bloomington. As for Kelvin, well, that's a different story.
Filed to: Rob Senderoff