Dakich: "That ain't quittin, that's just missin"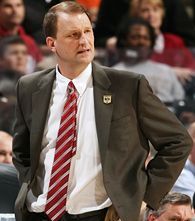 Former Indiana Director of Basketball Operations/Assistant coach/Interim coach Dan Dakich talked to Al Hamnik of The Northwest Indiana Times and Hamnik fired off some questions we've all been clamoring to have answered. Dakich gave a couple of good responses and predictably, dodged the toughest question:
NW Times: It's been rumored there was a drug problem on the team.

Dakich: I'm not going into that.

NW Times: The Hoosiers finished 3-4 with you at the helm, leading many to believe the team quit on you.

Dakich: We were 3-1 and then a lot of things started happening, internally, that I'm not about to go into. Truth of the matter is, it got easy for people to say the players quit on Dakich, they quit on Indiana. But Eric Gordon went 7-for-50. That ain't quittin'. That's just missin'. Guys didn't make shots they had made earlier in the year. This team lived on the edge — with Gordon making shots. This whole notion of the players revolting or being against me … the players were against losing Coach Sampson. I'm not going to say they weren't (ticked) off at the administration, at the school. The players didn't understand why phone calls were such a big deal when some of them had been called numerous times by other schools.

NW Times: Following the season, you kicked sophomore Armon Bassett and junior Jamarcus Ellis off the team. The exodus of players continued when Tom Crean was hired as the new coach. Were these simply bad recruits?

Dakich: When I took over the team, there was going to be accountability for class attendance, getting to practice on time, things of that nature. There were kids there that absolutely did not respect Indiana University and had no respect for the basketball program. My decision to dismiss two guys was really easy. Crean's decision to dismiss the rest of 'em was really easy. The only way that wasn't going to happen was if somebody came into Indiana University and didn't care about anything. I said that in my postgame after the (NCAA) Arkansas game: The culture needed to change and get back to being Indiana University basketball, which is on the level with North Carolina, Duke, Kansas, Kentucky and UCLA.
For all of the second guessing that a lot of us (myself included) did when Dakich kicked Ellis and Bassett to the curb, it's good to see the man has been vindicated for his actions. He started the cleanup of the program and now Tom Crean is moving forward with the rebuilding process.
As far as Dakich saying the team didn't quit on him, I think the effort was there from guys like White, Gordon, Stemler and Taber, but there were definitely others who looked like they could not have cared less. Sorry Dan, but the downfall of the season can't simply be blamed on missed shots by Gordon. The swagger the team had in those two home games against Purdue and Michigan State completely evaporated after Sampson's dismissal. Combine that with an injured Gordon and a group of players that weren't on board with Dakich and well, you know how the story ends.
Filed to: Dan Dakich