Must be a slow news day in Birmingham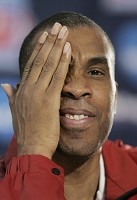 For reasons unbeknown to yours truly, Birmingham News scribe Kevin Scarbinsky felt compelled to write a column today about IU fans and their unwillingness to let go of our feelings towards Mike Davis.
Funny thing is, a significant portion of the Indiana fan base couldn't wait for Davis to hit the road. Two years later, some Hoosiers can't let him go. They're like some LSU football fans still obsessed with Nick Saban, except LSU football fans didn't hate Saban when he worked there and didn't want him to leave.

Like Alabama football fans, Indiana basketball fans love their history, and with good reason, except for the chapters that include, say, folding chairs as flying objects. As their program prepares to face the music and the Infractions Committee, whose decision will shape their future for years to come, it seems fitting to revisit and revise some recent history.

At least for those Hoosiers who like to keep those cards and letters coming, who still believe Davis was the worst thing to happen to IU basketball since John Feinstein. News flash: He wasn't.
Scarbo: As a co-editor of one of the more widely read Indiana basketball Web sites out there, I have a news flash for you: We don't care about our old friend Mike anymore. In fact, I'm not even sure of the last time he was mentioned around these parts. The reality is, a lot of fans appreciate Davis' magical 2002 run to the NCAA championship game, but they also realize he was over matched as the head man in Bloomington. His record in Birmingham over the last two seasons only confirms the truth about Davis: As a head coach, he's not worthy of a big time job. Here's to hoping the sports news heats up in Birmingham soon, Scarbo.
Filed to: Kevin Scarbinsky, Mike Davis