Maurice Sutton and Emmanuel Negedu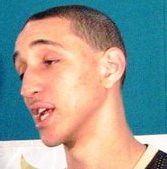 Those of you waiting on the edge of your seats for a decision from Maurice Sutton won't have to wait much longer. Sutton could decide between Indiana, Villanova and Seton Hall as early as tonight.
Here's what his high school coach, Lewis Howard, told Adam Zagoria:
"He's down to three. We're going to know something later tonight or early in the morning. Villanova went great. He was just there for one day. He loved Indiana. Indiana was great, too."
I'm still not sold on Sutton being much of an impact player next season, but the Hoosiers need interior depth and the big man from Maryland could be the best available talent left on the board. One person I talked to told me that Sutton would probably be about as far along in terms of development as Eli Holman, minus the defensive prowess.
Moving past Sutton, one piece of news that has generated quite a buzz is the possibility of Emmanuel Negedu getting a release from Arizona and Indiana making a play for his services. Negedu's comments to Gary Parrish of CBS Sportsline indicate that he wants out of his LOI, but so far, Lute Olsen isn't biting:
"I do not picture myself at Arizona anymore. I told him I want my release. He told me 'Come visit again and see if we can change your mind and make this better. But I do not need to visit again. I need a release. Nothing can make me change my mind from getting a release. I'm strong on my decision."
Parrish mentions Tennessee and IU as possible suitors for Negedu in his article, but there's nothing to discuss here unless Olsen obliges with his request for a release. Here's a highlight reel of Negedu from YouTube.
Filed to: Emmanuel Negedu, Maurice Sutton