Roundup: Adidas May Classic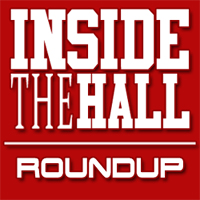 The Adidas May Classic took place this weekend in Bloomington and here are some notes from the event compiled from around the Web:
— Indiana Elite, led by Bobby Capobianco (IU), Jordan Hulls, Stephan Van Treese, Colt Ryan, D.J. Byrd (Purdue) and Mason Plumlee (Duke), won the 17-and-under title with a 80-63 win over the Michigan Mustangs. The Hoosier Scoop has a detailed recap as does Hoosier Nation.
— Demetrius Walker, a 6-4 guard, 200 lb. guard from San Juan Capistrano (CA) told reporters that Indiana is his favorite and was planning to visit with Tom Crean this weekend. However, Walker's team changed their travel arrangements, so his meeting with Crean will have to be rescheduled, according to Chris Korman of the H-T/Hoosier Scoop. Walker is rated a 3-star recruit by Rivals and is in the 2009 class.
— Maurice Sutton told a group of reporters that he was really enjoying himself in Bloomington and based on his comments, I'd be surprised if he doesn't end up a Hoosier. His unofficial visit will take place Monday before he flies home to Maryland. He is scheduled to visit Villanova next weekend before making a decision. That could change if Sutton decides to commit before he leaves town. Terry Hutchens had a nice piece on Sutton in Sunday morning's Indianapolis Star and Jody Demling heard rumors that Sutton is close to a commitment to IU.
— Apparently IU is involved with Leonard Washington and quite frankly, this comes as surprise given Washington's questionable academic reputation. He's already reclassified from 2007 to 2008 and was reportedly involved in a couple of fights last summer at the Adidas Super 64 in Las Vegas. Jody Demling has some quotes from Washington here.
— Although Jeremiah Rivers hasn't officially announced that he will transfer to IU, the Washington Times report likely is legitimate and Indiana looks to be in good position with the former Georgetown guard.
— Bobby Capobianco was very impressive during the AMC according to one observer I spoke with and his play this spring should help him skyrocket up the national recruiting rankings. Being committed to Indiana won't hurt, either. Capobianco will be a fan favorite in Assembly Hall with his intensity on both ends of the floor.
— Jordan Crawford and Brandon McGee helped with score keeping for some of the games at Assembly Hall. Barring unforeseen circumstances, both figure to return next season.
— Chris Korman had a brief scouting report on Christian Watford and Jody Demling of the C-J listed Indiana, Kentucky, Louisville, Memphis and Alabama as the schools most involved for his services. No word on if Watford, a Birmingham (AL) native, has any future visits lined up to Bloomington. He'll visit Louisville and Kentucky before heading back to Birmingham, according to Demling. Watford is the No. 47 player in the 2009 class on Rivals.com.
Filed to: Adidas May Classic, Bobby Capobianco, Brandon McGee, Christian Watford, D.J. Byrd, Demetrius Walker, Jeremiah Rivers, Jordan Crawford, Jordan Hulls, Leonard Washington, Maurice Sutton, Stephan Van Treese