Jordan Hulls gets Indiana offer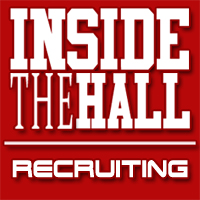 John Decker over at Hoosier Nation is reporting that IU offered a scholarship to Bloomington South point guard Jordan Hulls, who is a member of the 2009 class, last night at Assembly Hall.
Hulls plays for the Indiana Elite AAU team alongside Bobby Capobianco, Stephan Van Treese, Jordan Prosser, Ray McCallum Jr., Colt Ryan, Mason Plumlee and D.J. Byrd.
Purdue and Duke are also showing interest and the 6-0, 170 lb. Hulls grew up a fan of the Blue Devils and Coach K. He's also got offers from Evansville, Toledo, Western Michigan, Ohio and Vermont, but with the recent interest from IU, Purdue and Duke, those schools are likely out of the picture.
Hulls had a coming out party on the national scene a few weeks ago when he played against one of the top guards in 2009, John Wall, at a tournament in Pittsburgh. Friend of the blog and Courier-Journal recruiting writer Jody Demling, wrote about that performance a few weeks ago:
Bloomington (Ind.) South High School guard Jordan Hulls will never forget his recent visit to Pittsburgh, playing in an AAU basketball event for the Indiana Elite team. The 6-foot Hulls – a senior-to-be – had quite a performance, helping the team to the 17 & under title and in the process going from mid-major prospect to a hot name.
In fact, he blew up.
Hulls hit five three-pointers and had a number of other solid plays, including a behind-the-back pass in a game against North Carolina guard John Wall, considered the top Class of 2009 point guard. Indiana assistant coach Tim Buckley and Duke coach Mike Krzyzewski were both among the coaches in the stands at that game.
Hulls seems to be high on Duke and would likely jump at an offer to play in Durham, but there will also be pressure to stay at home and don the candy striped pants. He'll either end up as a fan favorite at Assembly Hall or end up as another Duke player that nobody can stand (J.J. Redick, Greg Paulus, Steve Wojciechowski, Jon Scheyer, Bobby Hurley). Let's hope it's not the latter.
Filed to: Jordan Hulls