Report: Maurice Creek to Indiana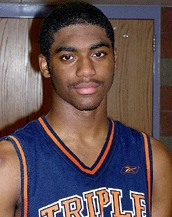 According to John Decker at Hoosier Nation, guard Maurice Creek has given a verbal commitment to Indiana and joins Bobby Capobianco and Derek Elston in the 2009 recruiting class.
Creek is 6-4, 175 lbs and hails from South Kent Prep (CT). He's the No. 63 player in 2009 class according to Rivals and No. 76 according to Scout. He transferred to South Kent Prep from Oxen Creek high school in Maryland last September.
Tom Crean and staff were recruiting him heavily at Marquette and the interest continued once Crean and staff took the reigns in Bloomington.
Creek was also considering Texas, Pittsburgh, Georgetown, Maryland, Miami (FL) and Michigan according to his profile on Rivals.com.
This is Indiana's fourth commitment (Bobby Capobianco, Devan Dumes and Nick Williams) since Crean, Tim Buckley and Bennie Seltzer hit the recruiting trail about a month ago and it's exactly the kind of news Hoosiers fans needed after mass dismissals from the program were announced on Friday afternoon.
Elsewhere:
(Photo Credit: Rivals.com)
Filed to: Maurice Creek