Is Sutton the final piece to 2008 class?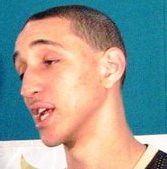 Both Hoosier Nation and Peegs are reporting that Maurice Sutton will make an unofficial visit to Bloomington in the near future and with an offer in hand, Indiana may now be the favorite to land the 6-10 Maryland big man. Sutton had previously favored Kentucky, but the Wildcats did not offer a scholarship and probably won't with the recent signing of Josh Harrellson.
Sutton's recruitment seems to have picked up after his 17-point performance at the Derby Festival Classic in Louisville. Although I've not seen Sutton play, I have now spoken with two different scouts who have watched him play and both told me that Sutton looks like a project. There's no doubt Tom Crean and staff have to be given the benefit of the doubt on who they are recruiting, but Sutton likely figures into Indiana's plan because there is an immediate need for a big man next season and he is one of the best options still left on the board.
(Photo credit: Jody Demling)
Filed to: Maurice Sutton