Van Treese trims list; IU still in the mix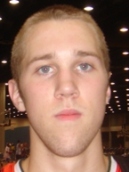 A report by Jayhawkslant.com today revealed that Lawrence North junior Stephan Van Treese trimmed his list of schools and Inside the Hall spoke to the big man to get the details. The schools still in consideration are Indiana, Kansas, UCLA, Louisville and Ohio State. Van Treese also told Inside the Hall that he's talked to new Indiana coach Tom Crean twice.
It'll be interesting to see how Van Treese's recruitment plays out as he's good friends with Bobby Capobianco, who recently committed and IU was the first school to offer Van Treese a scholarship. He'll likely let the process play out and take visits in the fall, but the Hoosiers should be in the thick of things right down to the end.
Filed to: Bobby Capobianco, Stephan Van Treese