Wednesday Roundup: Walk-ons, Harrellson, Tyreke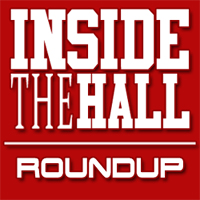 — Joining the legacy established by Ryan Tapak, Adam Ahlfeld and Brett Finkelmeier will be Rochester (IN) guard Kory Barnett and Carmel (IN) guard Daniel Moore who have both agreed to walk-on in Bloomington, according to multiple reports. While it may not seem like a big deal to land two walk-ons, both of these kids are what the program needs: they'll show up everyday with the right attitude, work hard, do well in school and be proud to wear the IU uniform. Moore turned down a free ride at Boston University for the opportunity to don the cream and crimson. Congrats are in order for both guys.
— A friend of Inside the Hall, Jody Demling of the Louisville Courier-Journal, has a brief update on Josh Harrellson, the junior college forward from Illinois who is reportedly interested in Indiana. Jody lists IU as "still in the mix," but this looks like a two horse race between St. Louis and Kentucky. Go Rick Majerus. The Hoosier Scoop also has an update on Harrellson.
— And finally, in a shocking development, a day after Derrick Rose declared for the NBA Draft, Tyreke Evans committed to Memphis. Those of you unfamiliar with Tyreke, he's a top 10 player in the 2008 class and a good friend of everybody's favorite basketball ambassador, William Wesley. Evans, by the way, was also involved in a shooting a couple of months ago. The reason I bring this up for you, the Indiana fan, is that our former prized recruit, Devin Ebanks, has lined up his visits and the final one is Memphis. It'll be interesting to see if Ebanks lands alongside Evans in Memphis. I would like my chances if my name were John Vincent Calipari.
Filed to: Daniel Moore, Devin Ebanks, Josh Harrellson, Kory Barnett, Tyreke Evans, William Wesley