Ray McCallum hired as head coach at Detroit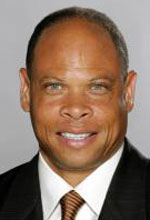 Ray McCallum, who spend the past two seasons as an assistant at Indiana, is taking over the reigns at Detroit. He'll fill the void left by Perry Watson, who recently retired:
DETROIT (AP) — The Detroit Titans hired Ray McCallum to be their basketball coach.

McCallum was introduced Friday at a news conference after beating out candidates such as Michigan assistant Mike Jackson, who had experience as a Detroit player and coach.

The 47-year-old McCallum was Ball State's head coach from 1993-2000 — going 126-76 with two NCAA tournament bids — then led Houston for four seasons and helped the Cougars play in the postseason in 2002 for the first time in nine years.
This is a big blow to IU's chances of landing 2010 point guard Ray McCallum Jr. who is one of the top 30 players nationally in his class. Ray Jr. played for Bloomington North the last two seasons and was behind the IU bench at almost every game this past season. As far as Ray Sr. goes, he's a class act and should do well at Detroit.
Filed to: Ray McCallum, Ray McCallum Jr