Holloway, Ebanks look elsewhere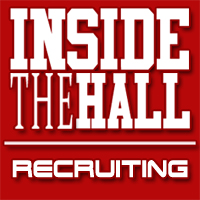 Those of you holding out hope that Tom Crean could convince former signees Terrell Holloway and Devin Ebanks to come to Bloomington can give up right about…now.
Holloway has given a verbal commitment to Xavier. The Cincinnati Enquirer has the details:
Xavier received an oral commitment from a fifth incoming freshman for next season while one of its current players prepared to take leave of the program Wednesday.

Point guard Terrell Holloway orally committed to play for the Musketeers Tuesday night, joining a stable of incoming recruits that includes two other guards, bolstering Xavier's backcourt depth.
Meanwhile, Ebanks has set his list of visits, according to Adam Zagoria of the Zagsblog:
The 6-foot-9 Ebanks, a small forward who is the No. 13 prospect in the Class of 2008, will visit West Virginia this weekend before playing in the Jordan Brand Classic April 19 at Madison Square Garden. Ebanks will then visit Texas the weekend of April 25, Rutgers the weekend of May 2 and Memphis the weekend of May 9, according to his AAU coach, Lawrence McGugins.

"We would decide within that two-week span because the last signing day is May 21," McGugins said. "It all depends on how he feels. All four visits are a definite.

Ebanks has spoken with new IU coach Tom Crean, but they have not yet met. "Indiana is still in it but they have not met," McGugins said, adding that Ebanks had no definite plans to meet in person with coach Crean.
If Ebanks ends up anywhere but Memphis, I'll be shocked (Coach Cal can thank his boy, Worldwide Wes). As far as Holloway goes, he'll be missed initially for depth reasons but long term there are better options out there in the upcoming classes that IU can hopefully get involved with.
Filed to: Devin Ebanks, Terrell Holloway