Rob Senderoff expected to join Kent State staff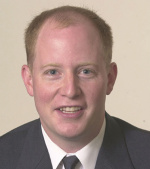 You remember Rob Senderoff, right? The former IU assistant thrown under the bus in an attempt to save face for Kelvin Sampson. It appears he's about to be hired as the top assistant to Geno Ford's staff at Kent State:
According to several sources, Senderoff is expected to sign a new contract within the next week to become Ford's No. 1 assistant. It's an excellent move.

Senderoff was considered one of college basketball's best recruiters before being forced to resign at Indiana as the intended fall guy in the Hoosiers "telephone scandal." He returns to Kent fully loaded with recruiting ties to talent-rich areas like New York, Indiana and Pennsylvania. He also returns to a place where he has close friends and colleagues who have no questions about his character.
I say good for Senderoff. He's a solid young coach that got caught up in the wrong situation at IU and it's nice to see him get another chance (if this report is indeed accurate). I ran into him last summer at an AAU event and he was nothing short of classy.
Filed to: Rob Senderoff