Stern and Brand ponder new age limit rule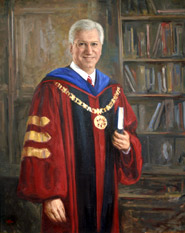 A report this morning by Jeff Goodman of Foxsports.com says that NBA commissioner David Stern and NCAA President Myles Brand are in agreement that both entities would benefit from a new rule requiring players to stay in college for two seasons.
According to sources, the proposal would still need to be passed through the NBA Players Association.

"It's a big step for the owners and the commissioner to say they're ready to bargain in good faith to get the rule passed," said one college coach who wished to remain anonymous. "The NBA is willing to give up something to get this rule passed; we just don't know what it is yet."

The NBA adopted a 19-year-old age limit through the collective bargaining agreement which expires in 2010-11.
Since the NBA put the current age restriction in place, I've always felt it either needed to be two years (or more) or done away with completely. If you're going to require players to attend college, get in line with college football and college baseball and make it a three year out of high school rule. All the current rule has done is create the phrase "one and done."
There will always be those who argue that players should be able to jump directly to the NBA from high school and they'll throw out the success stories of Kobe Bryant, Tracy McGrady, Kevin Garnett and countless others. For every Bryant, McGrady and Garnett, there's a Lenny Cooke, Korleone Young and DeAngelo Collins. Guys who would have benefited greatly from college but instead tested the NBA waters and got burned.
So what are your thoughts on the current rule and this new proposal? Do you agree with having an age limit rule to enter the NBA or should players have a right to enter the league immediately following high school?  Thoughts are welcome in the comments.
Filed to: David Stern, Jeff Goodman, Myles Brand