The Aftermath: Eric Gordon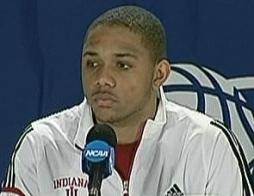 First, a confession: I considered boring you with a press release from IU media relations later today with the news that Eric Gordon declared for the NBA Draft. After all, the easy thing would have been to just forget about Gordon and move on since his days in Bloomington will now be limited to the occasions in which he returns to Assembly Hall as a spectator.
But you can get the press release filled with quotes about how tough of a decision (actually, it was a no-brainer) it was elsewhere. Instead, let's dive into the year that was at Indiana for EJ and ultimately, how disappointing it was.
Make no mistake about it. Gordon's numbers were excellent for a freshman — 20.9 ppg — is certainly nothing to sneeze at. His shooting was marred by a wrist injury during the second half of the season and yet he still found ways to score by attacking the basket relentlessly. Major props for that and for playing through the pain.
With that said, Gordon's judgment (or lack thereof) when deciding if it was the time to attack or when it was time to spread the ball around was troublesome. At times, he looked like a player that still felt he was playing against high school talent. The reoccurring scenarios that stand out to me: A) Drive into the lane where there was no opening and turn it over or B) Drive all the way to the basket, throw up a wild shot and pray for a foul. Neither were advisable decisions, yet neither were corrected throughout the season. It happened time and time again.
Which leads me to my next point. I will not blame this on Gordon, but more on the coaching he received. Anyone who watched Indiana closely this year could see exactly what was happening, yet no adjustments were made to try and free up Gordon for easier looks. Instead, we saw far too much one-on-one play and not enough structure. How many times do you remember Gordon coming off of a screen for a three-pointer? There weren't many. The majority of the looks he got were looks he created for himself. And that's just not acceptable, anyway you slice it. He deserved better.
Once Kelvin Sampson was given the boot, it became obvious that Gordon, like many of his teammates, was just ready for the nightmare to be over. His shooting percentage dipped to a dismal 32 percent over his final seven games and he committed 4.2 turnovers per game during that span. Was this partly due to the injury? Perhaps. But it's also important to note how well Gordon played in Sampson's final two games as IU's coach. He scored 28 and 22 points, respectively, and IU beat two of the top four teams in the league.
So how will the Indiana fan remember Eric Gordon's Indiana career? My guess is there will be mixed emotions amongst the members of Hoosier Nation. Some will remember him as one of the top talents to ever come out of the state and wear the IU uniform. And how can you not love the fact that he snubbed everybody's favorite team, Illinois, to join the party in Bloomington?
Then, there were also those who will be left wondering what could have been had Gordon stayed and realized his potential. He's far from a polished product that is ready to be an impact player at the NBA level and let's face it, some will have a bad taste in their mouth about the team Gordon was supposed to help lead.
Ultimately, the young man is making a decision that, as I said earlier, is a no-brainer. IU is in a transition period under new leadership, facing potential NCAA sanctions and Gordon is a likely lottery pick. Those who were holding out hope that he might, just might give it one more try were holding out false hope. So in closing, we say goodbye to Gordon and thank him for the one-year we did get to watch him play, even if it ultimately ended in disappointment.
Filed to: Eric Gordon