ITH Super Happy Fun Time Coaching Search: Mike Montgomery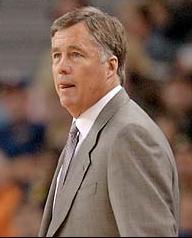 Kelvin is out the door and Dan is not our man, so that can only mean one thing: It's coaching search time! Here's a look at the candidates that could land in Bloomington. We'll give you the pros, the cons and the bottom line. This morning: Mike Montgomery.
Pros: Montgomery spent 26 years as a head coach in college before leaving Stanford in 2004 for the Golden State Warriors. He lasted two seasons before being fired in August of 2006. Montgomery's career record in the college ranks is 547-244 and in 1998, he led the Cardinal to their first Final Four in 56 years. He is one of just six coaches to receive the John Wooden "Legends of Coaching" Lifetime Achievement Award joining Denny Crum, Mike Krzyzewski, Roy Williams, Dean Smith and Lute Olsen. While in Golden State, he had former IU standout Keith Smart on his staff and it would be interesting to see if he'd bring Smart along if he lands in Bloomington.
Cons: At 61, there are serious concerns about how long of a tenure Montgomery would be able to have at IU. His age could pose a problem in recruiting as competing schools could use it against him to cast doubt on how much longer he'll be around. He's also a west coast guy as he's spent his entire head coaching career in Montana and California.
Bottom line: Montgomery would have been a good hire about 10 years ago and could be a steal for a lower tier program looking to drum up some interest. His age will clearly work against him and rightfully so: IU needs a coach to build the program and sustain it. Hiring a 61-year old would be a short term fix to a situation that clearly requires a long term solution. Steer clear of Monty.
Reminder: Registration now required to post comments. Click here to sign up for free. You'll get access to avatars, the ability to rate comments and gain clout points based on the rating of your comments by other users.
Filed to: Mike Montgomery