ITH Super Happy Fun Time Coaching Search: Brad Brownell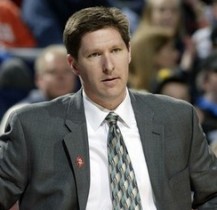 Kelvin is out the door and Dan is not our man, so that can only mean one thing: It's coaching search time! Here's a look at the candidates that could land in Bloomington. We'll give you the pros, the cons and the bottom line. This morning: Wright State's Brad Brownell.
Pros: At first glance, Brownell might not look like much of a candidate to be the next Indiana coach. He's never won a game in the NCAA Tournament (he's 0-3) and his head coaching gigs to date are at UNC-Wilmington and Wright State. However, he's won 20+ games in two consecutive seasons as the lead man in Dayton including taking the Raiders to their first NCAA bid since 1993 a season ago. The 39-year old Brownell was born in Evansville and graduated from Harrison high school where he was a teammate of Calbert Cheaney. His career record sits at 127-60.
Cons: Based on name value, Brownell probably won't excite many IU fans and his hiring could get a head scratching reaction from the national media. His record is more than adequate, but will it translate from the mid-major level to the Big Ten? I'm not sure a NCAA Tournament win is a prerequisite to land the job, but Brownell won't get any points from the committee in that department.
Bottom line: While he's probably a sleeper to land in Bloomington, there's no doubt Brownell would be interested in the opportunity and his record indicates he could succeed. The quick turnaround he's orchestrated at Wright State is impressive and at 39, he's young enough to build the program for the long haul. At the minimum, if the committee decides to interview multiple candidates, Brownell deserves a shot to say his piece.
Reminder: Registration now required to post comments. Click here to sign up for free. You'll get access to avatars, the ability to rate comments and gain clout points based on the rating of your comments by other users.
Filed to: Brad Brownell