Bennett: "I am not going to pursue the Indiana job"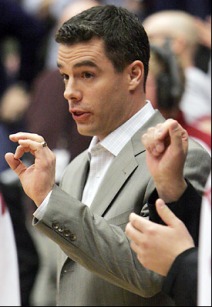 According to a report by Vince Grippi of the Spokesman Review, Washington State head coach had preliminary talks with Indiana and has decided not to take it any further. In other words, he's not coming to IU.
Indiana University called. Tony Bennett answered. He listened. Then he decided to stay put.

"I had an exploratory conversation with Indiana," said Bennett Sunday afternoon, "and I am not going to pursue the Indiana job."

Bennett said Indiana called Saturday evening to gauge his interest. He didn't say whom he talked with, but added "they made contact last night and they went through the proper procedures by contacting (WSU athletic director) Jim Sterk and, like I said, I had an exploratory conversation with them."
So it's on to the next option for Indiana and it's not clear at this time just who that might be. Two of everybody's early favorites, Bennett and Sean Miller of Xavier, are likely out of the picture. We'll continue to keep you posted as news is reported or if we hear anything of interest.
Related:
Reminder: Registration now required to post comments. Click here to sign up for free. You'll get access to avatars, the ability to rate comments and gain clout points based on the rating of your comments by other users.
Filed to: Tony Bennett