ITH Super Happy Fun Time Coaching Search: Rick Barnes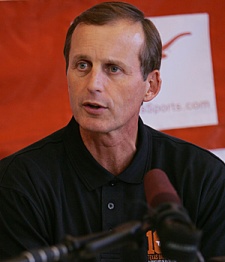 Kelvin is out the door and Dan is not our man, so that can only mean one thing: It's coaching search time! Here's a look at the candidates that could land in Bloomington. We'll give you the pros, the cons and the bottom line. This afternoon: Texas's Rick Barnes.
Pros: Barnes is a proven commodity and what he's done at Texas — a football school — is fairly impressive. He's been to 10 straight NCAA Tournaments (13 straight if you go back to his days at Clemson), including a run to the Final Four in 2003. This season, his Longhorns are back into the Sweet 16 despite the loss of last year's player of the year, Kevin Durant. Besides Durant, he's produced a nice crop of NBA players including T.J. Ford, Chris Mihm, Daniel Gibson and Lamarcus Aldridge.
Cons: Barnes is making over $2.1 million annually in Austin and the facilities he enjoys there are second-to-none. He's got one of the better practice facilities anywhere and the recently upgraded Frank Erwin Center. With his current situation, he would likely command a hefty pay raise to entice him to leave the friendly confines of Austin, Texas. Despite the plethora of talent he's had while at Texas, he's been bounced in the first weekend of March in five of his ten seasons at the helm.
Bottom line: Barnes is likely a long shot for a couple of reasons: 1) His current situation in Austin is ideal. He's at a football school and the pressure to win isn't as big as it would be in Bloomington. 2) He's already one of the highest paid coaches in the game and while his resume is solid, does it justify paying him upwards of $2.5 million? Probably not. If the first couple of priorities fall through for the "blue ribbon" search committee, perhaps Barnes could get a look.
Reminder: Registration now required to post comments. Click here to sign up for free. You'll get access to avatars, the ability to rate comments and gain clout points based on the rating of your comments by other users.
Filed to: Rick Barnes