ITH Super Happy Fun Time Coaching Search: Scott Drew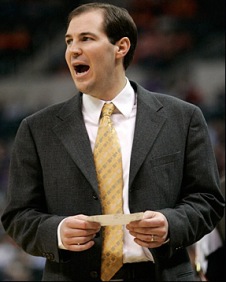 Kelvin is out the door and Dan is not our man, so that can only mean one thing: It's coaching search time! Here's a look at the candidates that could land in Bloomington. We'll give you the pros, the cons and the bottom line. This afternoon: Baylor's Scott Drew.
Pros: In a move that could have turned into career suicide, Drew left Valparaiso in 2003 for Waco, Texas to take over a Baylor program crippled by drug use, violations and the murder of Patrick Dennehy by teammate Carlton Dotson. Five years later, Drew led Baylor to the NCAA Tournament and a fourth place finish in the Big 12. His overall record is not glamorous due to the situation he inherited, but nobody can question the fact that he turned a gloom and doom situation into one of the feel good stories in college basketball. The 37-year-old has strong Indiana ties after spending nine years at Valparaiso as an assistant to his father, Homer, and one season as a head coach before taking over at Baylor.
Cons: Drew's recruiting tactics were called into question by Gary Parrish of CBS Sportsline back in 2006. To his credit, Drew took responsibility for a few of the allegations. However, the fact that a young coach resorted to questionable tactics against a legend like Bob Knight surely didn't help Drew's popularity among his peers. Drew has yet to win a NCAA Tournament game as a head coach which is probably a requirement to be a serious contender for one of the premier jobs in America.
Bottom line: Drew is in the discussion because of his ties to the state and the remarkable job he's done bringing Baylor back to respectability. The negative recruiting stuff may not seem like a huge deal on the surface, but it's definitely a red flag for a program trying to restore its pristine image. Realistically, he is a long shot at best and that's probably a good thing due to his lack of experience coaching in March.
Reminder: Registration now required to post comments. Click here to sign up for free. You'll get access to avatars, the ability to rate comments and gain clout points based on the rating of your comments by other users.
Filed to: Scott Drew