ITH Super Happy Fun Time Coaching Search: Tony Bennett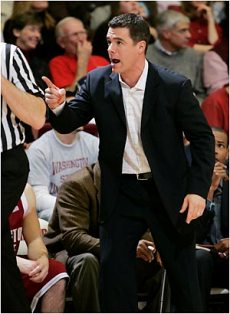 Kelvin is out the door and Dan is not our man, so that can only mean one thing: It's coaching search time! Here's a look at the candidates that could land in Bloomington. We'll give you the pros, the cons and the bottom line. This afternoon: Washington State's Tony Bennett.
Pros: After his father Dick retired two seasons ago, the younger Bennett took over and in his first season led Washington State to its most wins in school history (tied it at 26), won AP Coach of the Year and Naismith College Coach of the Year. This all after WSU finished dead last in the Pac-10 a year before. This year, his team has the second-highest rated defense in the country at 56.1 points allowed per game and have advanced (so far) to the Sweet Sixteen — beating Winthrop and Notre Dame by a combined margin of 49 points. He's young (38), he's up and coming, he's what IU could really use to jump start the program. He's helped recruit the likes Devin Harris, Kirk Penney, Alando Tucker and Brian Butch while at Wisconsin. His father's ties to Bob Knight might help reconnect a certain segment of the Indiana family too.
Cons: Too inexperienced? This is only Bennett's second year at the helm of Washington State. Sure, he's done a stellar job in his first two seasons, but do we need a larger sample size before we know he's the real deal? Would it be a mistake to pull a trigger on a guy who's still largely untested?
The bottom line: Out of the young up and coming crop, Bennett might stick out as IU's No. 1 target. But does he want to flee WSU for a school where his sister resigned a few short years ago as head coach of the women's team? His current salary is at least $800,000 a year and his contract runs till at least the 2013-2014 season. Perhaps a bit easier on the pocketbooks for IU than others.
Tomorrow morning, Big A will break down Sean Miller of Xavier.
Reminder: Registration now required to post comments. Click here to sign up for free. You'll get access to avatars, the ability to rate comments and gain clout points based on the rating of your comments by other users.
Filed to: Dick Bennett, Tony Bennett