Rumor alert: IU wants to talk to Bruce Pearl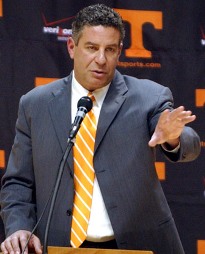 I'm usually not big on rumors, after all, anyone can make something up and hope it comes true, but during the impending coaching search, we're sure to hear a little bit of this and a little bit of that. So to preface this, it's a rumor. But we wouldn't be doing our job if we didn't pass it along.
The word out of the East Region in Birmingham, Alabama is that Indiana has asked Tennessee for permission to speak to coach Bruce Pearl. Reportedly, a Tennessee coach said Pearl hasn't said a word to his staff.
With that said, Pearl was on Real Sports on HBO with Bryant Gumbel recently and off camera, he said that he knew Indiana would come calling and that he had no interest in the job.
So I'm not really sure to make of this. One would think if IU did make the call, Pearl would surely listen to their pitch after the season. Worst case scenario, he'll get a raise from good ol' Rocky Top. I'm sure this will make PostmanE happy, but am I the only one who thinks photos like these are a cause for concern when discussing Pearl's candidacy? It's one thing to get a photo with your favorite coach, but these just strike me as a bit over the top. Also, the headbands would have to go.
Filed to: Bruce Pearl