Our meaningless Final Four picks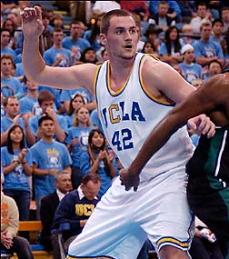 We filled up our Yahoo! Tournament Pick 'Em Group, so I had to get PostmanE and PostmanR on record with their Final Four picks.
It's the most wonderful time of the year, despite how poorly the last half of the season transpired for our Hoosiers, so sit back, relax and enjoy the tournament. You're welcome to put your picks on record in the comments. Here goes nothing:
East
PostmanE: Louisville
PostmanR: North Carolina
Big A: North Carolina
Midwest
PostmanE: Kansas
PostmanR: Georgetown
Big A: Kansas
South
PostmanE: Pittsburgh
PostmanR: Pittsburgh
Big A: Stanford
West
PostmanE: UCLA
PostmanR: UCLA
Big A: UCLA
National Championship
PostmanE: Kansas over UCLA
PostmanR: UCLA over North Carolina
Big A: UCLA over Kansas
As you can see, all three of us really like to go out on a limb. We'll have our complete Indiana – Arkansas preview on Friday. Until then, let's go dancing, shall we?
Filed to: NCAA Tournament