Big Ten title: Who ya got?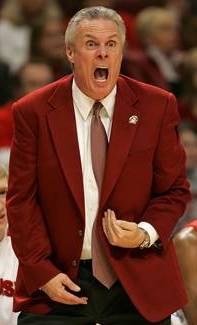 It's crunch time in the race for the Big Ten regular season title and three teams have separated themselves from the pack. Based on difficulty of schedule, Bo Ryan and Wisconsin appear to be the favorite. Purdue has a road game at Ohio State, who is hungry for a marquee win to boost their NCAA resume and Indiana plays at Michigan State.
Here's a list of the remaining games for each of the three contenders:
— Wisconsin: Michigan State (home), Penn State (home), Northwestern (away)
— Indiana: Michigan State (away), Minnesota (home), Penn State (away)
— Purdue: Northwestern (home), Ohio State (away), Michigan (away)
We'll know a lot more about where the race is heading tonight when Michigan State plays at the Kohl Center. If the Badgers win, they're almost a sure bet to finish 16-2. However, if Purdue wins out, they would also be 16-2 and would own a tiebreaker (for Big Ten Tournament seeding purposes) over Wisconsin because the Boilermakers beat them twice. Don't count the Hoosiers out just yet, but given their success (or lack thereof) at the Breslin Center, they seem to be the least likely of the three teams to win the league.
So given the remaining schedules, who is your pick to win the Big Ten regular season title?
Filed to: Michigan State Spartans, Wisconsin Badgers