The Morning After: Ohio State v.2.0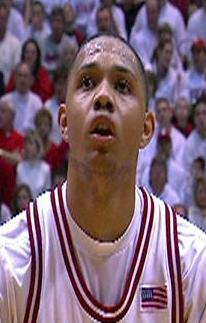 Ugh. Whatever that was last night, it was not pretty to watch. Eric Gordon's game was way off, D.J. White had his share of struggles, and the Hoosiers oftentimes looked discombobulated and confused. Also, for whatever reason — partially because the refs didn't do a particularly good job of reffing the game — IU complained about the refs all game. It got to be a little repetitive.
I think we can chalk most of last night's game up to bad shooting. Look at the numbers: The Hoosiers shot far below their season average effective field goal, putting up 43.4 percent. Their season total is 10 points higher than that, at 53.6 percent. The turnovers were about even with their season average and the points per possession weren't wildly different — IU just shot poorly. Fortunately, the Hoosiers rebounded well on the offensive end and held off a weirdly inconsistent Buckeyes team.
It's hard to get a good feeling for where the Buckeyes stand. In their first 12 minutes on the floor, they looked disinterested, sloppy, outwitted, and boring. In their next 20 or so minutes, up until and after the half, Ohio State looked focused, efficient, and driven. The real OSU probably falls somewhere between that mix, which isn't likely to be good enough to get them in the NCAA tournament.
— I'm pretty sure I saw a comment — lots of comments, actually — in the postgame thread last night complaining about Eric Gordon. That's partially justifiable: Gordon had a bad game last night. A really bad one. 17 points in 40 minutes is not exactly stellar, especially given the awful shooting and the seven turnovers. Gross.
I think it's safe to say now that this is what Eric Gordon is. He's flawed. He's a good shooter prone to off nights without much of a mid-range game. He's fantastic at getting to the basket but isn't always under control when he gets there. He plays fast and loose and hard, but his ball handling is the weakest part of his game. He turns the ball over. A lot.
He also gets to the free throw line more frequently than anyone else in the conference and makes 86 percent of his shots while there. That, as it did last night, is perhaps his most important and valuable trait, one that sustains his game when everything else is broken. This is the player we recruited. This is the player we have. Complaining about it now is almost pointless.
— I love Steve Lavin and Brent Musberger, but they have a funny habit of taking the wrong side of every issue. Just last week, in their broadcast of IU's win over Purdue, Musberger was openly lobbying to keep Kelvin Sampson around. He never really provided justification for his opinion on the matter — either he didn't think Sampson cheated, or didn't deserve the punishment for his crimes. Either way, it didn't make a lick of sense.
Last night was no different. It was Lavin, this time, providing horrible advice to IU's administration: Consider hiring Dan Dakich. It's a comical notion. Dakich is a palatable, keep-everybody-happy interim coach that will likely do a fine job keeping the team intact over the next few weeks. Maybe he'll even make a tournament run! But regardless of his success, the chances of him keeping this job are absolutely zero.
What was even funnier than Lavin's suggestion was the circular way he went about justifying it. At Bowling Green, Dakich posted a 156-140 over ten years. That's pretty middling, and usually, "middling" at a mid-major doesn't earn one a top job in the country. You have to be Sean Miller good, or Mark Few good. But according to Lavin, Dakich "honed his craft" — whatever that means — and would be a good fit thanks to his Bob Knight ties. Also, Lavin compared Dakich to Joe Torre, which is laughable not only because Torre is probably a better manager of people than Dakich will ever be, but because managing in baseball is so much different than college basketball it's not even worth a comparison. Baseball managers take the talent they're given and manage it to the best of their abilities, and most studies point to the idea that managers have a relatively negligible, or at least statistically undetectable, impact on the game. Take Joe Torre: Torre is known as a Hall of Fame manager because he won four titles with the New York Yankees, but anyone that watches baseball intelligently realizes that the Yankees were the highest-paid, most-talented organization in baseball for almost all of Torre's tenure.
Unlike Torre, after this year, Dakich's talent reserves would be dry. He'd be responsible for recruiting his own talent, not having it handed down by a front office, and the thought that Dan Dakich is somehow the right coach for IU for the long-term future is just laughable. Even Dan Dakich knows this. So Steve Lavin, please stop saying otherwise. We love you too much to see you be wrong so often.
Filed to: Brent Musberger, Dan Dakich, Eric Gordon, Joe Torre, Ohio State Buckeyes, Steve Lavin