Is Tony Bennett a viable candidate for IU?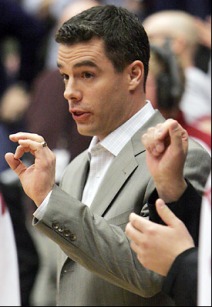 Since there is still a lot of basketball left to be played, we'll try our best to keep the inevitable coaching search talk to a minimum. However, one trend I've noticed since Sampson's resignation on Friday is the amount of media attention being given to Tony Bennett of Washington State. Pat Forde of ESPN.com called Bennett the best candidate almost immediately after Sampson stepped down.
And now, the media out in Seattle is also starting to begin the whispers about the possibility of Bennett coming to Bloomington. Bud Withers of the Seattle Times had the following to say this morning:
You'd assume Bennett would listen. Indiana drips with history, from its five national titles to its candy-stripe warmup pants. There's a reason they made a movie called "Hoosiers."

Just as there's history at Indiana, there's history with the Bennett family there. Kathi Bennett, Tony's older sister and the member of the family Dick Bennett has said might be the best at it, was head coach of the Hoosiers' women from 2000 to 2005 before resigning and getting out of the business.

Indiana would offer Tony Bennett a bunch more money than the Cougars can; they're paying him $800,000 annually. Bloomington, at 70,000 population, would present a college town but not one as remote as Pullman. No more would he have to contend with the nettlesome travel issues in and out of WSU.

He can win a national title at Indiana. Realistically, he can't at Washington State.
Sounds good, right? My only reservation at Bennett is his lack of head coaching experience (two seasons). He did, however, win National Coach of the Year in his debut last year. So I'll give him a pass on that.
He's proven he can recruit. As an assistant at Wisconsin, he helped bring in Alando Tucker, Kirk Penny, Devin Harris and Brian Butch. He's also just 38 years of age which means he could be a long term solution, unlike Kelvin Sampson.
So what do you think, ITH'ers? Where is Bennett on your radar screen? Is he somebody that IU should seriously consider when the coaching search heats up? Let's hear your take in the comments.
Filed to: Tony Bennett