Purdue fans are easily offended enginerds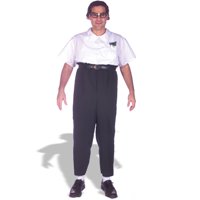 That's right. I said it.
Friend of ITH Wrigleyville sent along this letter to the editor in the Purdue Exponent today from a Purdue fan angry at interim coach-to-be Dan Dakich's anti-engineer comments before the Illinois game. If you'll remember, Dakich told Eric Gordon that if "an engineering student from Wilmette is going to bother you, you're not as tough as I thought." Zing! Of course, one Purdue alum (pictured right) won't stand for that sort of rhetoric, and is planning hissubversive action at tomorrow night's game:
Pull out all the stops in supporting our Boilers on Feb. 19. It's becoming clearer that IU will execute their contingency plan quickly and put Dan Dakich in as head coach to make what they can out of this year. We need to find ways to road trip to Bloomington and pick up tickets from disenfranchised Hoosiers (there are many of them now). Dakich has been a critic of engineers for the last 25 years. His most recent slam at engineers was a few weeks ago as IU prepared for the Illini: www.wrigleyville23.com/2008/02/dan-dakich-gets-off-good-one.html.

Nick Miller
Alumnus
That would so, like, totally work, except Nick apparently missed Saturday night's game, one of the rowdier Assembly Hall environments in recent years. If IU fans were disenfranchised, this might work, but we're not, so it won't. Oh, and if a former IU basketball player is going to bother you, Nick, you're not the engineering alumnus I thought you were.
Quick, on three: Everybody point at the enginerd! Ha-ha!
Filed to: Purdue Boilermakers