Inspired Hoosiers crush Spartans, 80-61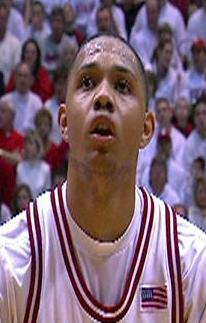 For 40 minutes, it wasn't about Kelvin Sampson and the NCAA allegations.
Saturday night in Assembly Hall, a national audience was treated to a display of basketball that all Hoosier fans can be proud of. The offense flowed, despite the absence of D.J. White, and the defense was stifling.
The end result was a 80-61 drubbing of the Michigan State Spartans.
Despite falling behind 15-4 to start the game and White falling victim to a knee injury, the Hoosiers banded together and grabbed their first lead at 23-22 on an Armon Bassett three-pointer. They never relinquished the lead after that point.
Eric Gordon turned in a brilliant performance with 28 points on 9 of 15 shooting. He showed a full repertoire of moves including his signature long range jumped, a breakaway dunk, several layups and a midrange game that is improving. He was, for the most part, unstoppable.
Equally important to the effort was the play of the bench. The Hoosiers got 24 points from that department including 12 from Jordan Crawford and 10 from DeAndre Thomas.
As far as White's status, he'll have a MRI on Sunday on his left knee. He left Assembly Hall without crutches and finished with six points in 15 minutes. Let's hope it's nothing serious.
Credit the Indiana players and coaching staff for being prepared despite all of the distractions. Towards the end of the game, we saw Coach Sampson exhibit some emotion on the sidelines. He hugged several players in a sign that the end is nearing for his tenure in Bloomington. Make no mistake about it: Sampson loves his players and they love him. The transition that is almost certainly on its way will not be an easy one.
But for now, enjoy the win. It was a big one.
Related:
Filed to: Eric Gordon, Michigan State Spartans