IU President will address media at 3PM presser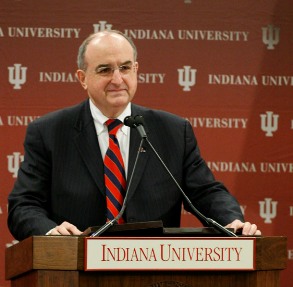 Update: Full text of McRobbie statement (The Hoosier Scoop)
Those of you who wish to watch the press conference, both WTHR.com and WISHTV.com will have streaming coverage.
Here is the official release from IU:
FOR IMMEDIATE RELEASE
February 15, 2008

BLOOMINGTON, Ind. — Indiana University President Michael McRobbie will respond today (Friday) to the notice of allegations received last week from the NCAA. He will preside over a press conference scheduled for 3 p.m. in the moot courtroom at the IU-Bloomington School of Law, which is located at the corner of Third Street and Indiana Avenue. He will take questions afterward.
Those of you who have questions you'd like answered, The Hoosier Scoop is offering an opportunity to submit your inquiries for McRobbie.
Filed to: Michael McRobbie