Ebanks right in the middle of Sampson debacle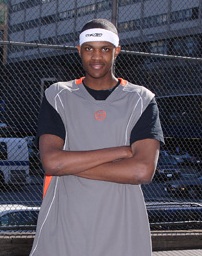 Inevitably, the questions are going to start up for the signees of the 2008 class and 2009 commit Derek Elston regarding their individual futures at Indiana. The IDS had a nice report this morning concerning Terrell Holloway and Elston that I would definitely recommend.
Meanwhile, the mother of Devin Ebanks, the prized recruit of the 2008, is speaking out about the uncertainty of her son's future. Here is what Yvonne Jackson told SI.com:
"Right now we still have yet to make a decision. Obviously this is more serious than ever before, but we'll have to talk with the coaches and wait to see if Devin will re-open his recruitment."
Jackson added that the family didn't hear of the latest allegations from the Indiana staff, but instead heard the news second hand from various media outlets. For those that didn't read the report, Jackson was mentioned for phone calls she participated in with the Indiana staff.
If Ebanks were to open his recruitment, he would need a release from the letter of intent he signed with Indiana back in November. Here's to hoping it never comes to that.
Thanks to ITH reader Kelin for the news tip.
Filed to: Devin Ebanks