A matter of when, not if…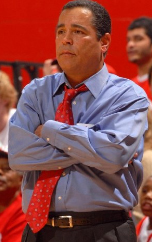 Let's be honest with each other: Kelvin Sampson needs to go. There's really no reason to justify keeping him. Sampson was handed a golden ticket and he pretty much threw it away in all of our faces. He had plenty of chances. He said he was starting with a clean slate when he accepted the job. The reality is, the blatant disregard for the rules never subsided. Perhaps he felt he wouldn't get caught or maybe he felt he was above the rules. But it really doesn't matter. I don't see any scenarios that result in him coaching Indiana for much longer.
The reality is, this situation is about to get very ugly in a hurry. There's a game tonight at Assembly Hall and to my knowledge, there's no press conference scheduled for this afternoon. And my guess is that in usual Sampson fashion, he won't field questions regarding the NCAA allegations. Talk about a PR nightmare.
And Saturday, the bright lights will only intensify when ESPN rolls into town for Game Day. Down the road, can you imagine the circus heading towards the NCAA Tournament if Sampson is still at the helm?
So my question to you, my fellow Hoosier fans: What's the best way to move forward? Do you force a resignation immediately? Do you fire him immediately? Do you wait a couple of weeks? Or do you ride it out until the end of the season and take all of the heat? Or is there another option out there you feel is better?
Filed to: Kelvin Sampson, NCAA allegations