Will Gordon feel the Krush?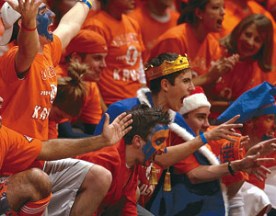 When Eric Gordon and the Hoosiers invade Assembly Hall tonight in Champaign-Urbana, the Orange Krush will be eagerly anticipating their arrival.
In what has become a dismal season for the 10-13 Illini, tonight's game marks a "new beginning" of sorts and a chance to take out pent up frustration on Gordon and Indiana coach Kelvin Sampson. The Krush have declared Gordon public enemy No. 1 and they are hell bent on becoming a major distraction during the game.
"People are looking forward to not only cheering the Illini on to victory but also giving Gordon and Kelvin Sampson a piece of their mind," Orange Krush president Eric Benz said. Benz declined to elaborate on any specific plans, but added the Krush has "a few tricks up their sleeve."
Unless one of the tricks is Deron Williams coming back for one game, I'm not too concerned.
A couple of quick observations on the Krush:
— Once upon a time, Indiana fans felt the Krush's pain. Remember Sean May. He was supposed to be a Hoosier. A Bloomington kid and a son of one of Indiana's all-time greats. It didn't end up that way. IU students booed. However, that doesn't make the continued fascination with IDKWTI any less annoying.
— A lot must go into running a student section that wears orange shirts (take notes those of you clamoring for an organized student section at Assembly Hall). Because I'm pretty sure the roster for the "Illini Pride Executive Board" is bigger than most small businesses. Among the most essential positions: President, Vice President Sports, Vice President Finance, Vice President Orange Krush, Senior Advisor, Orange Krush Chair, Public Relations, Event Coordinator and Event Manager. The only thing missing is a treasurer and a janitor. I think I'm out of breath.
Now that I've said my piece on the Krush, it's time that you say yours. What effect will they have on the game? If they get inside Gordon's head and take him out of the game, it might be another long night for us folks watching the game. Let's face it: We don't want another repeat of the Wisconsin debacle from last week.
Thoughts on the Krush, the game and anything else on your mind in the comments.
Note: I expected a packed house tonight for the game thread.
Filed to: Eric Gordon, Illinois Illini, Orange Krush