Game Thread: Indiana @ Wisconsin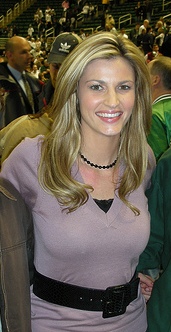 Before we proceed, a couple of notes: 1) For those of you in Southern Indiana/Louisville, PostmanE will be on 93.9 the Ticket tonight at 7:20 ET with the Big EZ Zach McCrite breaking down the game. We'll try to get audio up on the site, if possible. 2) We hope none of you consider this picture of Erin Andrews to be "scantily clad" or "softcore porn." If you do, well, tough luck.
Opponent: Wisconsin
Date: Thursday, January 31, 2008 | 9:00 p.m. EST

Arena: Kohl Center (17,190) – Madison, Wisconsin
Line: Wisconsin by 4
All-time series: Indiana leads 93-55

Previous meeting: Indiana won 71-66 on Jan 31, 2007

TV: ESPN (Brent Musberger, Steve Lavin and Erin Andrews)
Radio: IU Radio Network (Don Fischer, Todd Leary and Joe Smith)

Probable Starters:
Indiana (17-2, 6-0 Big Ten): Armon Bassett, Eric Gordon, Jamarcus Ellis, Mike White, D.J. White
Wisconsin (16-3, 6-1 Big Ten): Trevon Hughes, Michael Flowers, Marcus Landry, Joe Krabbenhoft, Brian Butch
Game Notes (Adobe Reader required to view):
Gameday reading:
As always, your predictions, analysis and comments are welcome in the game thread.
Filed to: Wisconsin Badgers