The Four Spot: Who ya got?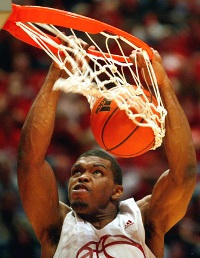 (Yes, we are aware of the Eric Gordon wrist injury rumors floating around various message boards. We'll keep you updated if anything official comes to the surface. Now, onward…)
Ahh, the four spot. No doubt about it, the lack of production from this particular position has been a killer for the Hoosiers in their two losses. Here are the numbers and there's no way around it, they're ugly:
— Xavier: Lance Stemler and DeAndre Thomas combined for 31 minutes, four points, seven rebounds, one block and eight fouls.
— Connecticut: Lance Stemler, DeAndre Thomas and Mike White combined for 34 minutes, five points, four rebounds, no blocks and two fouls.
Now, before I dig into this deeper, first let me say that I'm not expecting one of these three fine gentlemen to morph into Luke Harangody. That would be too good to be true (and really awesome).
What I would like to see is some form of consistent contribution from this position. Guys, you don't even have to score. That's already covered. Play good defense, take a few charges, rebound on occasion and I'm ecstatic. That said, it's just not happening right now. So let's examine the three choices and then get your take (OK, I might give mine too) on who the best option is to get the bulk of the minutes.
Lance Stemler: Of the three choices, Stemler is currently getting the most minutes at just over 22 per contest. His hustle is looked upon favorably by yours truly and a lot of you, but when we go right to the root of things, diving on the floor constantly doesn't really do much good if you don't come up with the ball. That point aside, Stemler is the best scorer of the three and he's only committed six turnovers. The problem with Stemler is that he's often caught out of position on defense because of his lack of athleticism.
Mike White: He's listed at 6-6 and he's really about 6-4. Coach Sampson pulled the redshirt off of White because "the team needed him." Despite his lack of size, he's the best rebounder of the three. However, his lack of ability on offense is a huge problem because it allows teams to leave him wide open and double-team D.J.
DeAndre Thomas: If Billy Packer's analysis of Big Dre were a true indication of the player he is, we'd have a Charles Barkley on our hands. The reality is Thomas has shown flashes of offensive brilliance against lesser opponents and has failed to show up against big time opponents (see Xavier and Connecticut). The potential for a breakout game is there, but make no mistake about it, DeAndre needs work on his defense and rebounding.
Of the three, I would take Stemler for a couple of reasons. First, he takes care of the ball. Second, you can't teach hustle. As ridiculous as some of his floor diving antics are, there's no question he plays hard. Third, he can step out and hit the three which can take some of the defensive vultures away from D.J.
So I've said my piece, now it's time for your thoughts. Who ya got at the four spot and why?
Filed to: DeAndre Thomas, Lance Stemler, Mike White