Sampson reacts to 68-63 loss to Connecticut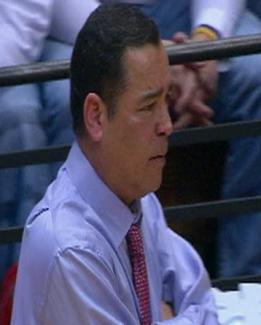 Indiana coach Kelvin Sampson met with reporters following Indiana's 68-63 loss to Connecticut and here's a transcript of that press conference:
Opening Statement:
First of all I'd like to congratulate Coach Calhoun and Connecticut. I thought their kids played tough. They hung together, made big plays when they needed to and that's a great win for them. We've been on the other side of this enough to know that situation they were in. We told our guys, we played a game similar to this when we were without Gordon, Bassett and Crawford. Those three guys were out for a game and I thought those guys being out helped us in a way because it kind of brought us together, banded us together and made us tougher. Today the toughest team won, Connecticut was just tougher than we were.
Did Thabeet affect Indiana's offense more than they expected him to?
Not really. We had good looks. D.J.'s 13 shots, I think maybe two of them were being really contested. He had a lot of good looks. Part of our game plan was to get Thabeet out of the paint and make him guard the pick and roll, but have D.J. picking and popping versus picking and rolling. And D.J.'s a really good 15 to 17 foot shooter. So those were the shots D.J. was getting. He just didn't shoot a very high percentage today. Basketball is a game where you have to play it together. You can't play it by yourself. Probably for the first time all year, and it's uncharacteristic for this team, but there will be some games like this, you just have to learn from them. This could be a great learning experience for our team and I think it will be. We'll bounce back.
Does having a non-conference game in the middle of the conference schedule that you can learn from, but didn't count as a conference loss, is that effect positive in any way?
You can spin this how you want to. Bottom line is, we didn't play good enough to win. Connecticut's team deserved to win this game tonight. There was not one facet of the game, you know they have a great point guard and their inside guys really dominated five feet and in, ten feet and in. Adrien and Robinson, Thabeet, those kids played well. Give Connecticut a lot of credit. We can sit here and talk about what we didn't do but let's give Connecticut some credit here. A tough situation for them, their kids came in and really played well.

You got a lot of open looks, Were you happy with the execution with the offense in this game?
I was probably a lot happier last game and I'll probably be a lot happier next game.

On the play of Eric Gordon:
He looked like he was struggling tonight. The game didn't come really easy to him. When you see somebody everyday, it's easy to find out what's wrong with them. I mean you guys see us everyday, so it's easy to point out what's wrong with us, but we still have a good team. This is a setback, we still have 12 more games and our team is going to win a ton more games and this may wind up being the best thing that happened to this team. Losing at home, at some point you're going to lose at home. North Carolina lost at home last week, UCLA lost at home, I'm sure somebody else did too. I don't worry about records. All I'm interested in is this team bouncing back. Learning from our mistakes. Not dwelling on our mistakes or talking about how poorly were are. We were bad today. There will be other games for us to be great in. This was a game today where we just didn't play very well. No excuses, just some days you don't play good and you have to go fix that. But at the same time, Connecticut did. They played good today, they deserved to win the game.

On the play of Jordan Crawford and what he brought:
I thought Jordan played more under control, didn't turn it over. The first half for instance, there's some things that jump out, I haven't seen the film, defensive breakdowns that should not be tolerated, unacceptable. We switch most guard to guard screens, if guard screens a guard, that's a switch. All you have to do is communicate, switch. Whoever sets the screen, that guy calls the switch. That happened two or three occasions and the guy comes out the other side and he's standing there wide open. Switch that fellas. The same thing happened the other night against Iowa, but for some reason we did not have the edge today. That's something we've gotta work on.
On losing at home and if it feels any different:
No, I've been doing this too long. This game, it's one game, we're 17-2. Nothing to be down about. I wish we had played better. I remember last year we played at Ohio State, for instance, and lost. I was disappointed we lost, but I wasn't disappointed in our effort. We're gonna lose some more games this year, you're not going to go undefeated. I handle loses when I'm proud of our team's effort. I wasn't proud of our effort today. That's the thing that's disgusting to me. That's the thing that, to me, if you're going to lose and I've watched some tapes, some games from last week, good teams lose, they get out-competed. If they came out today and were making shots the Iowa kid made at the end of the game, the six threes that kid made in a minute and a half, that didn't bother me. Those were hard shots. It's not like we were five feet from him and he was wide open. That didn't bother me. What bothered me today was I didn't see our team grit their teeth. We kept trying to come back, but the one thing you notice about young teams especially, or just young kids, we're not a young team anymore, we have some freshmen, we're not a young team. When their shot's not going in, that'll dissolve their effort a little bit. You gotta grow up from that. So we're going to try to allow this game to be a learning experience for us.
Filed to: Kelvin Sampson