Ripe for an upset? Not so fast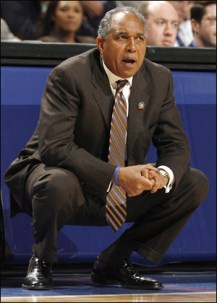 The word on the street is that the Hoosiers are ripe for an upset tonight in Minneapolis. Terry Hutchens of the Indy Star addressed it earlier this week and Paging Jim Shikenjanski, a Minnesota blog, has already predicted the Gophers will knock off IU at the Barn.
Nothing against Minnesota, I think they're a nice story and a possible NCAA team if they finish fifth or better in the conference, but nothing about their resume screams: "We're ready to knock off a top 10 opponent."
Consider this: They've played three teams with RPI's in the top 100 and lost all three times. (At Florida State, At UNLV and At Michigan State.)
If you thought IU's non-conference schedule was weak, Minnesota's was flat out terrible. They feasted on cupcakes like UC Riverside, South Dakota State, Army and Kennesaw State. Their best win, according to the RPI, is Nicholls State at No. 121.
Does this sound like a team that is ready to derail D.J. White, Eric Gordon and company?
Maybe I'm missing something here, but I like IU's chances despite their 2-8 record in their last 10 games at Williams Arena. This stat is thrown around a lot, but do you think it means anything to Gordon, Jamarcus Ellis and Jordan Crawford? Wait, I can answer that for you: It means nothing.
We've become so spoiled with the early season success of the Hoosiers that we're looking for things to critique despite their current 10-game winning streak. I do it, you do it, we all do it. We're fans, that's what we do, right?
Sure, they were blown out by Xavier, grinded it out at Iowa and had a tough game Sunday against Illinois.
The fact is the Hoosiers are winning despite not playing their best basketball and not having a full complement of players at their disposal. It started with A.J. Ratliff being ineligible, shifted to suspensions of Jordan Crawford and Armon Bassett and now it's injuries to Bassett and Eli Holman. But that's what good teams do. They find ways to win.
And that is exactly what I expect out of the Hoosiers tonight against Tubby Smith and the Golden Gophers.
We'll have coverage of the game tonight as usual, but right now, we welcome your predictions and discussion of tonight's game.
Filed to: Minnesota Golden Gophers, Tubby Smith