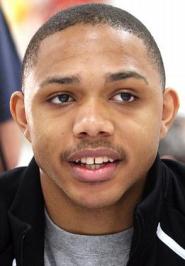 Turn back the clock to October 13, 2006. North Central guard Eric Gordon had just made the switch to Indiana after committing to Illinois and coach Bruce Weber on November 28, 2005.
Indiana fans rejoiced. Chants of "Eric Gordon" filled Assembly Hall at Hoosier Hysteria. After missing on Greg Oden and Michael Conley Jr. the previous year, the Hoosiers finally had their man. Gordon, perhaps the best player in the 2007 class, would help Indiana return to national prominence.
Illinois fans were up in arms and cried foul on Indiana coach Kelvin Sampson, Gordon and his father, Eric Sr. Never mind the fact that Indiana had made a coaching change since Gordon's commitment to Illinois. "How dare he change his mind," the Orange Krush exclaimed.
Deron Williams, Utah Jazz guard and former Illinois point guard, knew the questions were coming about Gordon.
"What are your thoughts on the Eric Gordon situation?," a reporter asked in a hotel lobby.
"I don't know who that is" Williams said.
And so the phrase was born that has become a staple for fans of the Illini when referring to the Big Ten's leading scorer: "I don't know who that is."
Truth is, they know all too well who Gordon is. At this point, who doesn't know who Eric Gordon is?
He's the best player in the Big Ten. He's the best guard in America. And the argument can be made that he's the best player in college basketball.
Indiana will host Illinois on Sunday at 4:30 on CBS. Verne Lundquist and Billy Packer will call the game. Indiana fans will chant "Eric Gordon." Kelvin Sampson will say that it's just another game as will Illinois coach Bruce Weber. What's done is done, right?
But we all know it's much more than that.
This game is all about Eric Gordon. Some of you have commented that you'd like to see him defer to teammates and let them crush the Illini. I'm on the opposite side of the spectrum. I want to see complete destruction of Illinois at the hands of Gordon. A facial for Shaun Pruitt would be a nice start. Long range three's in the face of Chester Frazier would push along the process. In the end, 40 for Gordon and a 25-point IU win would be ideal.
So what are you expecting from EJ on Sunday? Is this just another game for him or will there be extra motivation? Your comments, por favor.
Filed to: Eric Gordon