Manny Harris emerging as one of Big Ten's best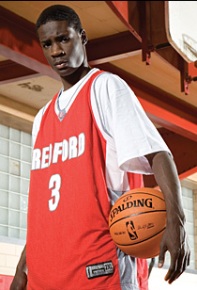 While he might not show up on the countless lists of the best freshmen in the country, Michigan freshman Manny Harris is quietly establishing himself as one of the Big Ten's best players on perhaps the league's worst team.
The 6-5 freshman guard from Redford High in Detroit enters tonight's game against the Hoosiers averaging 16.5 ppg, good for fifth in the conference. He's also among the league leaders in free throw percentage (83.2 percent, 4th), steals (1.57, 7th) and minutes played (31.7, 9th).
Harris scored 25 points in Saturday's 65-58 loss to Purdue and was able to find a few positives from as the Wolverines fell to 4-10.
"Our best is still to come, and we're still getting better," Harris told Jeff Arnold of the Ann Arbor News. "You can pull a lot of positives out of this game, but it's still a negative because we lost. We're trying to learn what it takes to win every game we play. We just still have to get over the hump."
While there are sure to be comparisons with Hoosier freshman Eric Gordon tonight by the ESPN announcing crew of Brent Musberger, Steve Lavin and Erin Andrews, Michigan coach John Beilein is not interested in comparing Harris with anyone.
"I don't get into those things at all. That's my biggest beef with the announcers, how they make such a big deal about the outstanding freshmen in the country," Beilein said. There won't be any talk of how they stack up against each other. Both of them are just trying to get better and play. They are good, but over four years there are going to be a lot of good players if they're patient."
(Photo credit: Rise Magazine)
Filed to: John Beilein, Manny Harris