Game Thread – Live Blog: Indiana @ Michigan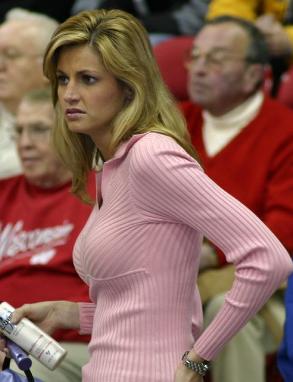 Erin Andrews says watch the Hoosiers on the World Wide Leader and follow the live blog at Inside the Hall, son!
Opponent: Michigan
Date: Tuesday, January 8, 2008 | 7:02 p.m. EST
Arena: Crisler Arena (13,751) – Ann Arbor, Michigan
Line: Indiana by 9.5
All-time series: Indiana leads 97-52
TV: ESPN (Brent Musberger, Steve Lavin and Erin Andrews)
Radio: IU Radio Network (Don Fischer, Todd Leary and Joe Smith)
Probable Starters:
Indiana (12-1): Jordan Crawford, Eric Gordon, Jamarcus Ellis, Mike White, D.J. White
Michigan (4-10): C.J. Lee, Manny Harris, Ekpe Udoh, DeShawn Sims, Ron Coleman
Game Notes (Adobe Reader required to view):
Gameday links:
As always, your predictions and comments are welcome in the game thread. I'll also be live blogging during the game, so after the tip, check for updates after the jump.
LIVE BLOG:
Indiana 78, Michigan 64 (final): Brandon McGee tries to dunk as time expires and Kelvin Sampson and John Beilein don't look happy. Neither do the Michigan fans, as they chant "asshole" towards McGee. Recap coming soon from PostmanR.
Indiana 74, Michigan 54 (2:26): It's official folks. 20 and 20 for our man in undershirt, D.J. White. Actually make that 21 and 21. It's getting a bit sloppy late but Eric Gordon finds Jordan Crawford underneath for an easy dunk. Michigan can't buy a shot from the outside which is not a good combination for Beilein's system.
Indiana 65, Michigan 45 (7:47): Crawford hits a jumper on the baseline, but comes back on the next possession and commits his sixth turnover of the night. The freshman from Detroit has nine points.
Indiana 63, Michigan (9:06): The rout is on as Gordon has 23 and D.J. has 16 points and a career-high 17 rebounds.
Indiana 61, Michigan 39 (11:32): Ratliff gets into the action with a three and the Hoosiers have outscored Michigan 24-8 in the second half. Quick timeout by John Beilein.
Indiana 55, Michigan 39 (13:37): Crawford gets a steal and feeds Gordon for a ridiculous dunk on the break out of the TV timeout. The Hoosiers are starting to break this game open.
Indiana 51, Michigan 37 (15:16): The Hoosiers get a quality possession to open the second half that results in a Mike White miss, but D.J. corrals the rebound, gets fouled and hits two free throws. Sims comes back for Michigan and draws a foul on Mike White. Michigan gets the ball out of bounds and works it around for a Sims three-pointer. Gordon comes right back with a three of his own to push the lead back to eight. The Hoosiers get a stop and a rebound by D.J. and Gordon pushes the ball towards the basket and is fouled. The Hoosiers get the ball and Gordon hits a stepback jumper. After a couple of missed opportunities for both teams, D.J. gets a dunk and a free throw afterwards to push the IU lead to 13. Crawford commits another turnover and Michigan hits one of two free throws. The Hoosiers come back and get a putback basket by D.J. The senior from Tuscaloosa now has 14 points and 14 rebounds. Another forced shot by Jordan Crawford and Harris comes back with a layup. A quick three by Gordon misses but Crawford gets a garbage basket just before the media timeout.
Indiana 37, Michigan 31 (halftime): DeShawn Sims hits a shot from beyond half court at the buzzer to give Michigan a bit of momentum. Sims leads all scorers at the half with 12. Gordon leads Indiana with 11 at the break but played just nine minutes due to three fouls.
Indiana 34, Michigan 22 (3:46): Michigan gets five straight points on shot by Udoh and a three by Harris. Crawford scores and Ellis hits a three as the Hoosiers come back with five straight of their own. Harris hits a layup just before the media timeout.
Indiana 29, Michigan 15 (5:54): Sims has an easy layup but can't hit it as the Wolverines have now gone 7+ minutes without a field goal. The Hoosiers come back in transition and Jordan Crawford is called for carrying the ball. That's three turnovers for Crawford now. The Wolverines come back and miss another shot as Manny Harris' three comes up short. IU comes back with a baseline jumper from D.J. Manny Harris hits a layup to end the drought for Michigan and Kelvin Sampson wants a timeout.
Indiana 27, Michigan 13 (7:51): Gordon commits his third foul and will likely sit for the rest of the half. Ratliff misses a layup and Jamarcus Ellis commits a foul just before the under 8 minute media timeout.
Indiana 27, Michigan 13 (8:28): DeAndre Thomas makes his first appearance and quickly comes up with a loose ball. Lavin and Musberger have no shortage of praise for the Westinghouse product. A nice pick and roll with Jamarcus Ellis nets an easy bucket for Thomas to put the Hoosiers ahead by 11. DeShawn Sims hits two free throws and Eric Gordon re-enters the game for D.J. White. A.J. Ratliff finds Thomas again for another easy basket. After another missed field goal for Michigan, Gordon comes back with another deep three and John Beilein calls for a timeout.
Indiana 20, Michigan 11 (10:45): Michigan comes out with nice D after the TV timeout. Harris takes the ball from Gordon and Gordon picks up a cheap foul. Harris really has all of the tools to become an All-Big Ten player in time. A couple of sloppy possessions by both teams and the scoring drought finally ends with a Gordon layup in transition. Gordon picks up his second foul at the 12:51 mark and is replaced by A.J. Ratliff. Lance Stemler also enters the game. After two Michigan free throws, Jordan Crawford takes it to the block and is stuffed by Ekpe Udoh. Stemler comes right in and nails a three on his first touch. Michigan is in the midst of a four minute stretch with no field goals.
Indiana 13, Michigan 9 (14:43): The Hoosiers open the scoring on a layup by Jamarcus Ellis, but Michigan comes right back with a three by C.J. Lee. Eric Gordon comes back with a deep three and D.J. White gets to the line for two free throws. Manny Harris gets into the scoring column with an easy layup. Gordon answers with another deep three. Gordon then has back-to-back transition opportunities and comes up empty both times – one on a travel and one on a missed layup. Michigan comes back with a jumper by Harris. IU's next possession is another three – this time by Jordan Crawford. Michigan comes back with a layup by DeShawn Sims.
Filed to: Erin Andrews, Michigan Wolverines